Seafood stick fans are swearing off the chip shop icon after a revolting video surfaced showing exactly how these faux seafood treats are made.
Seafood stick fans are swearing off the chip shop icon after a revolting video surfaced showing exactly how these faux seafood treats are made.
A Reddit post detailing the process is currently eliciting gags as disillusioned fans analogise the imitation crustacean to a "fish hotdog."
"Surimi crab sticks are hygienically made using pure tender meat and natural pigment," reads the description on the longer version of the video on YouTube.
In the video, filmed at the world's largest crab stick processing plant in Thailand, workers can be seen shoving white bricks of frozen fish meat into a shredding machine.
These are then mulched up and transferred to another contraption and blended with salt and egg white.
Copious ice cubes are subsequently dumped in along with sugar and vegetable oil while real crab is nowhere to be found.
Then, a giant rotating crisp pulverises the ingredients into a beige sludge.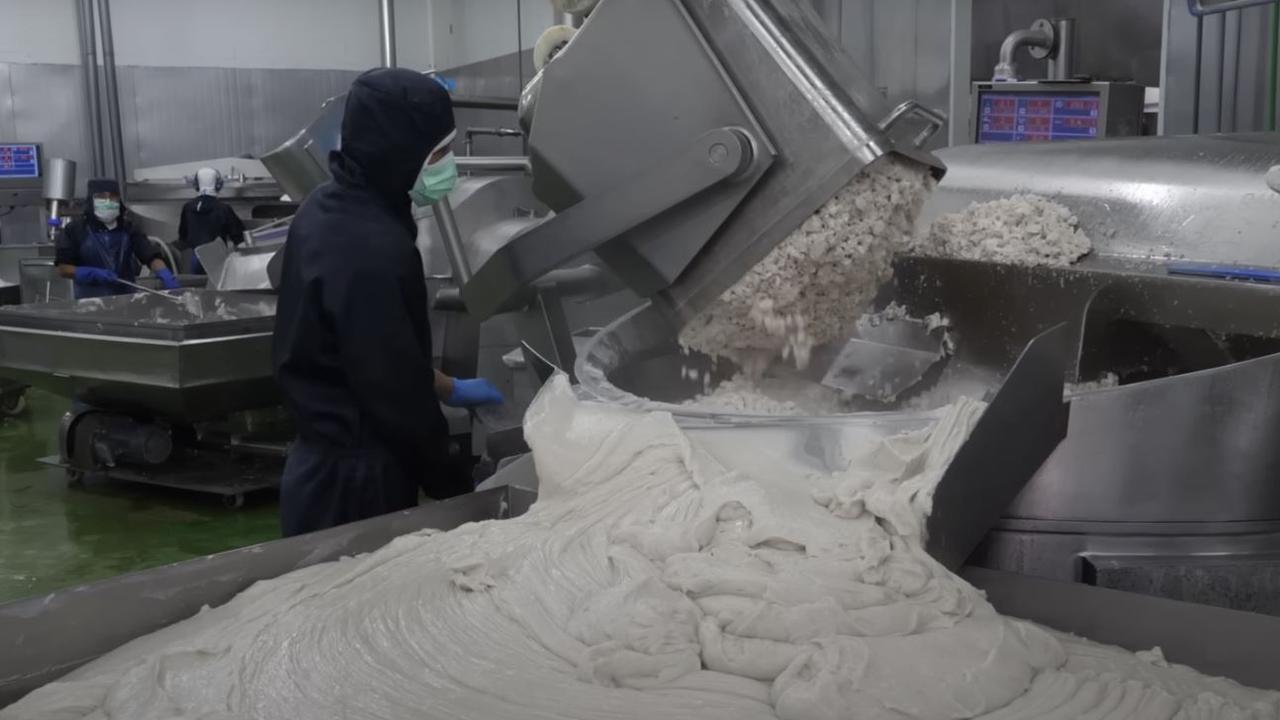 The shredded fish being turned into a sludgy paste. Picture: YouTube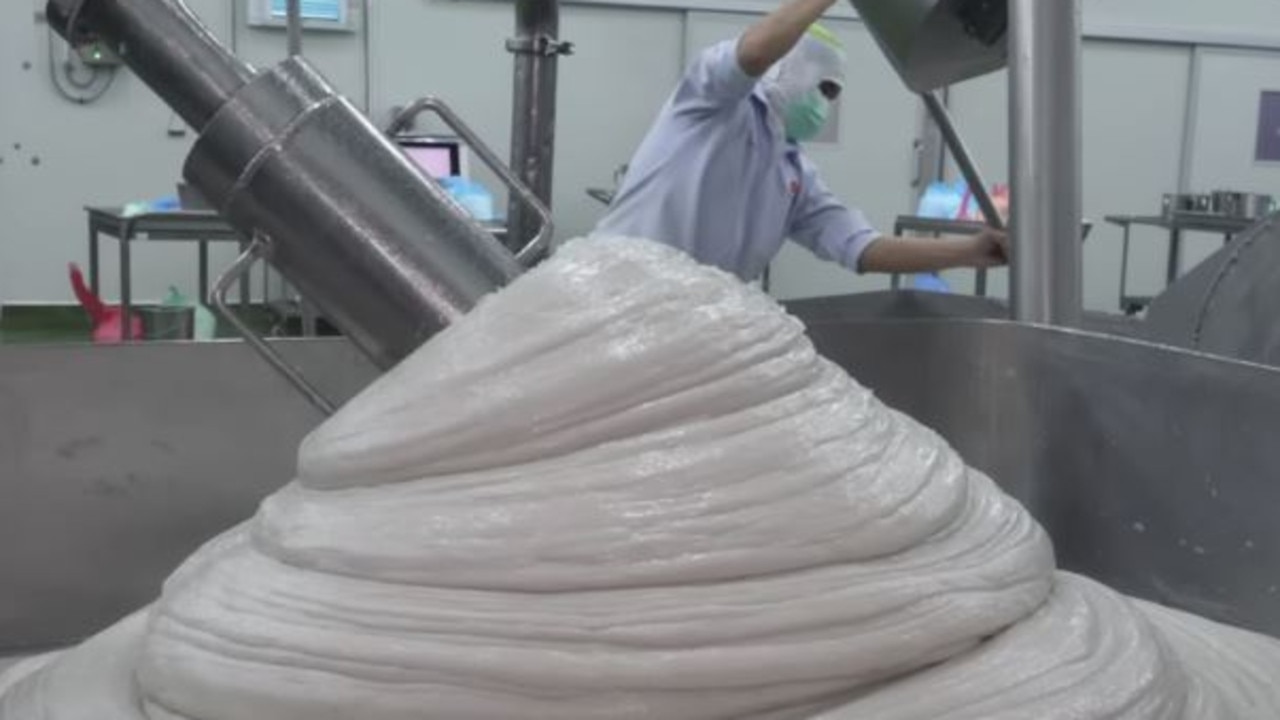 Mmmmm delicious sludge. Picture: YouTube
This is then mechanically moulded into a long noodle that's cocooned with its signature witches hat orange coating.
For the uninitiated, this casing is dyed surimi, a multifaceted fish or meat paste that comes in various shapes and textures and can be used to approximate everything from eel to, well, crab.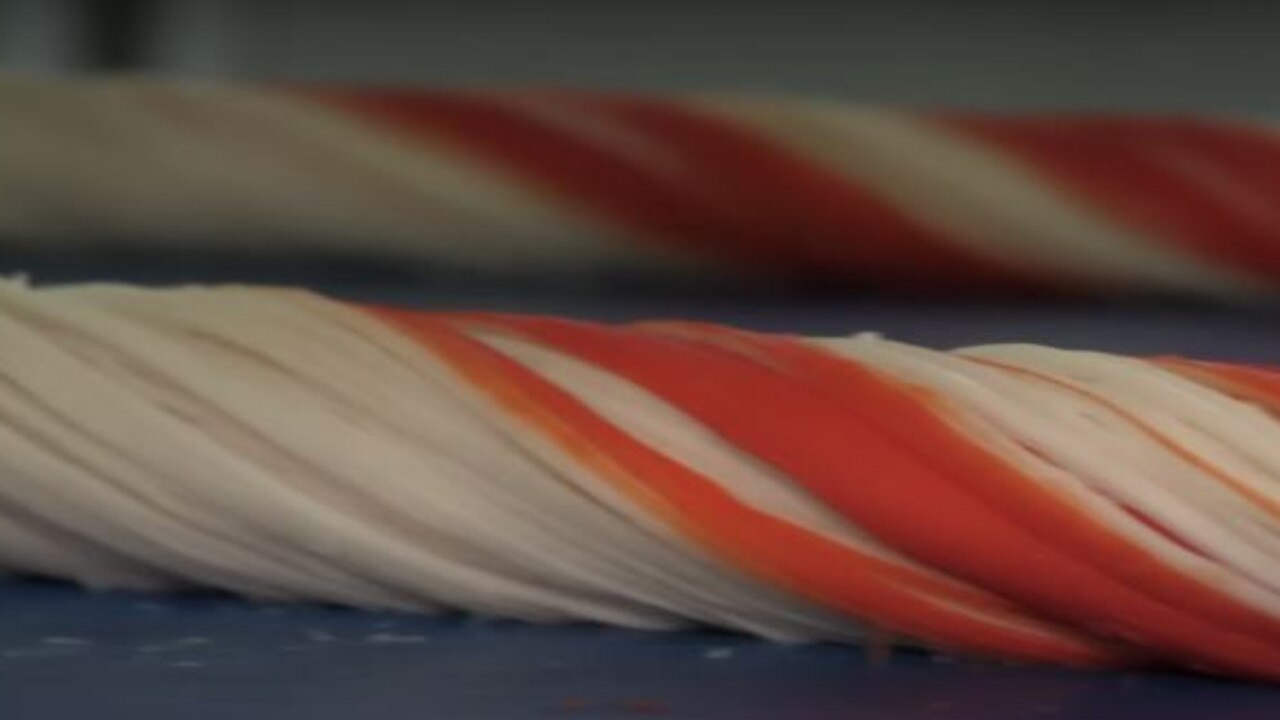 The sticks are coloured with surimi, a fish paste. Picture: YouTube
Crab sticks are used as seafood substitutes in dishes ranging from Vietnamese pho to crab rangoon as well as, in Australia, being battered, fried and coated in chicken salt in fish and chip shops and sold as "seafood sticks".
Finally, the crab sticks are packaged by employees and prepped for distribution on the floor of the facility, which reportedly manufactures 40,000 tons of this crab from concentrate per year, and purveys it to 37 countries around the world.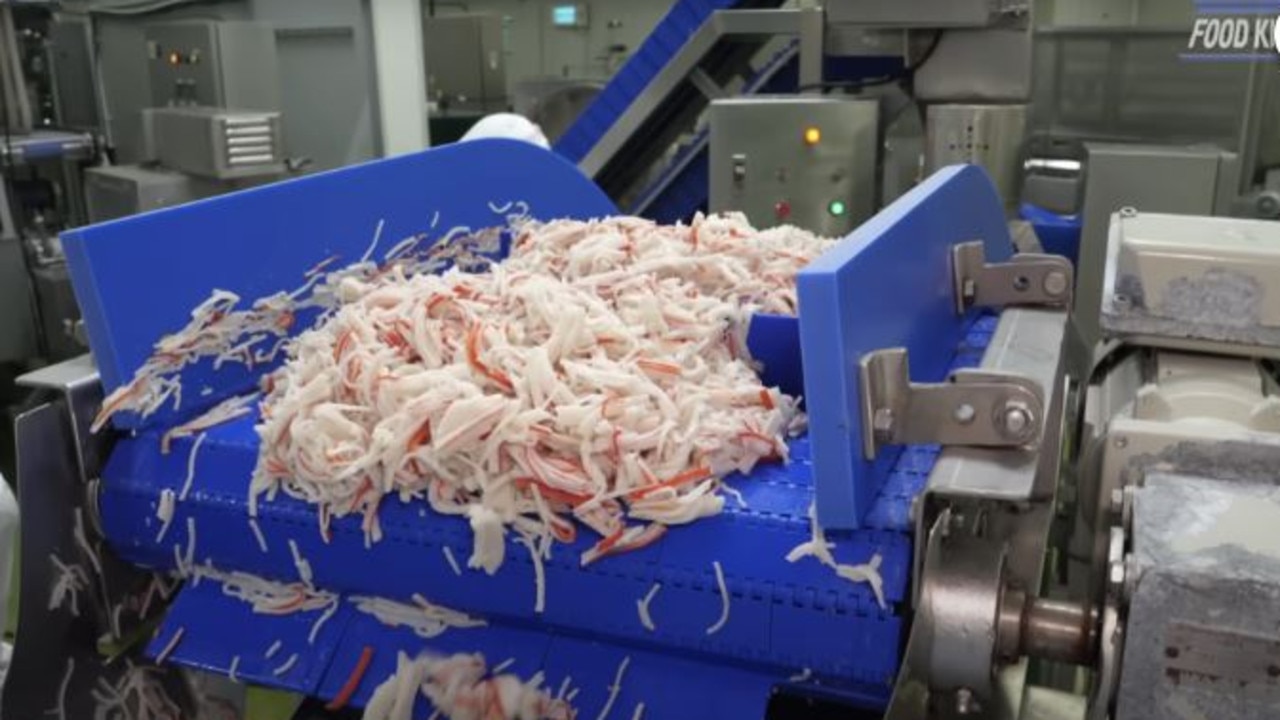 The video has disgusted fans of the fishy food. Picture: YouTube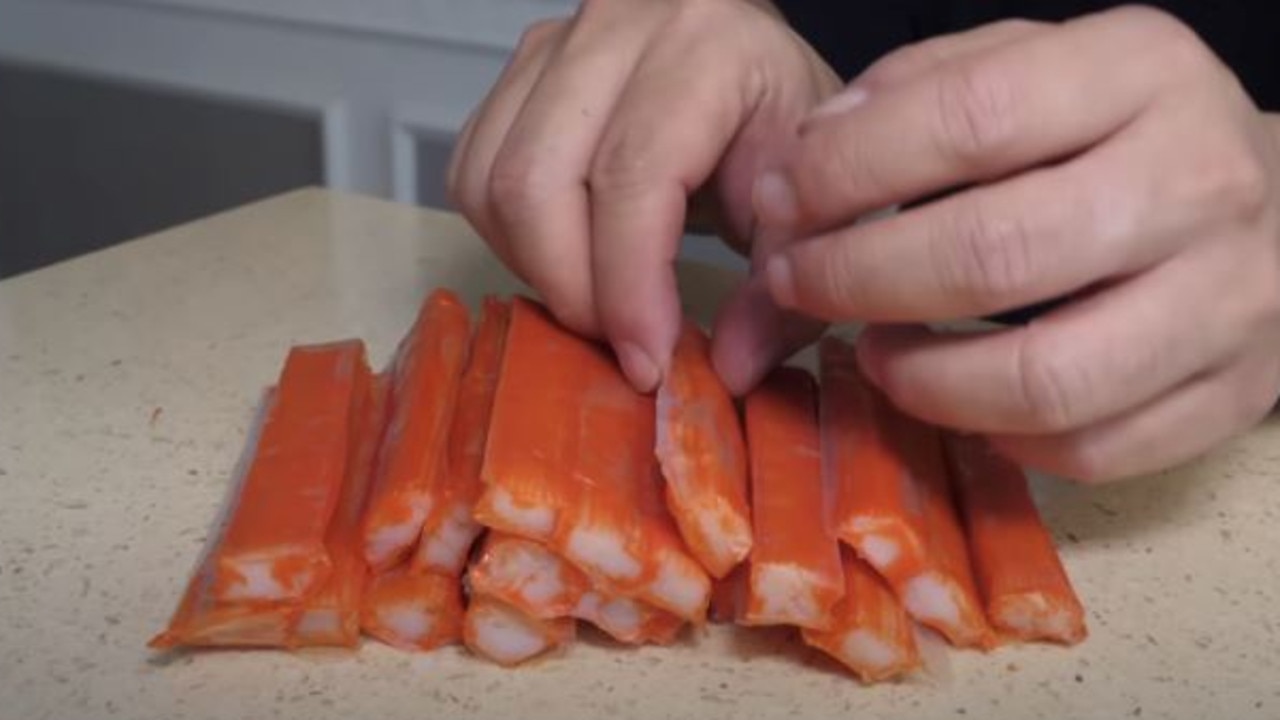 There is no crab in these 'crab' sticks. Picture: YouTube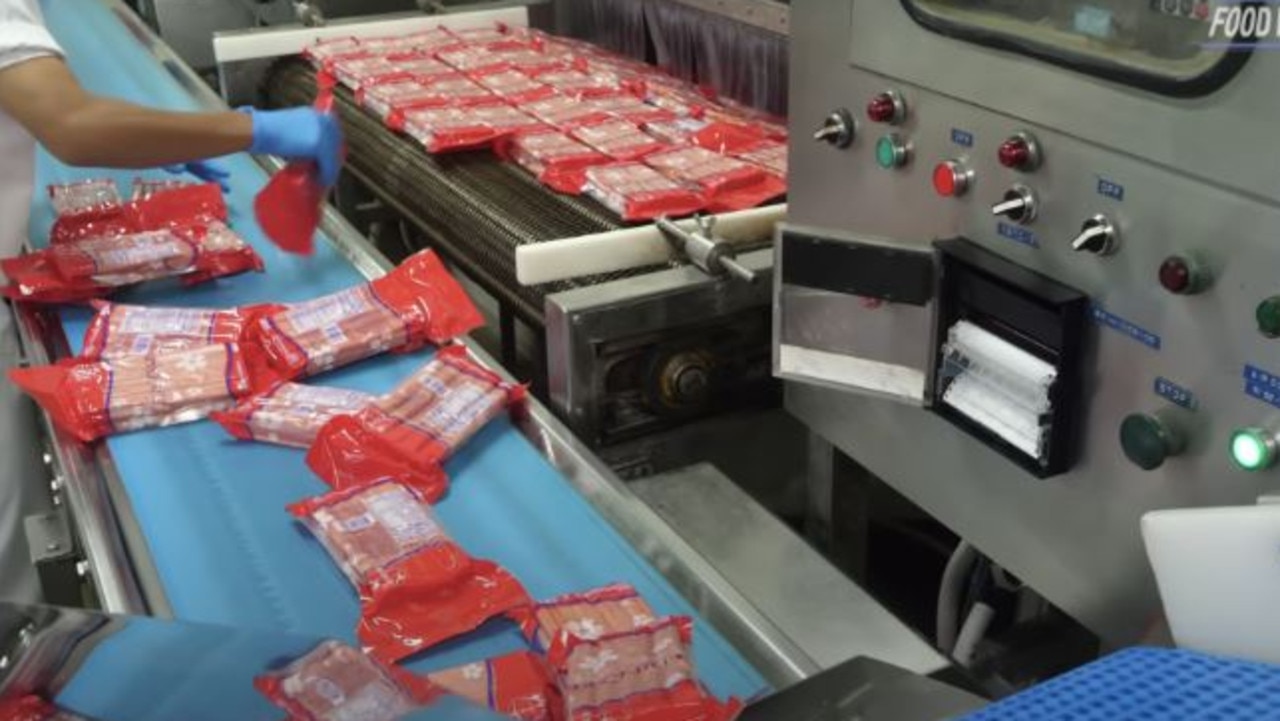 The packaged crab sticks off for distribution. Picture: YouTube
The behind-the-scenes look didn't sit well with viewers.
"Watching processed food being made really puts you off," declared one Redditor, while another wrote, "Yaaaaa I don't want any f**king thing to do with that."
"So basically fish hotdogs," said another.
One flabbergasted commenter exclaimed, "The only ingredient I could identify was the ice."
"Everything OK hun? You've hardly touched your grey," quipped one social media comedian, mocking the arti-fish-ial ingredients.
This isn't the first "How it's made"-esque food processing tutorial to make people lose their lunch.
In October, revolting footage showing the creation of McDonald's iconic McRib burger had customers vowing to never order the item again.
And it's not just ingredient reveals that is blowing people's minds: Internet gourmands had their world turned upside down after they learned just what the acronym SPAM, referring to the ubiquitous canned pork patty, stands for.