This revelation about NewJeans' performance at the BBMAs has surprised many netizens
In his recent appearance on SBS News Radio, music critic Kim Young Dae revealed that Billboard encountered difficulties in getting a nod from NewJeans to perform at this year's Billboard Music Awards.
This revelation comes as a surprise, considering the eagerness of many K-pop artists to seize the opportunity to grace the global stage of one of the biggest music awards in America.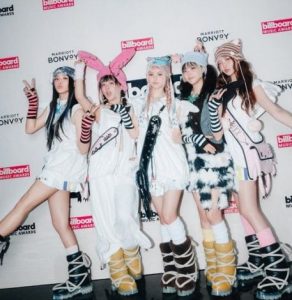 "As far as I know, Billboard had to work very hard to secure NewJeans' performance at the awards ceremony this year. Ultimately, NewJeans' side made the decision to perform," shared music critic Kim Young Dae.
Previously, NewJeans won 'Top Global K-Pop Artist' at the 2023 Billboard Music Awards, marking a historic moment as the first K-pop girl group to stand on the Billboard Music Awards stage. With their dynamic choreography and vibrant energy, NewJeans uplifted the atmosphere.
Just 16 months into their debut, NewJeans achieved a remarkable feat, becoming the K-pop artist with the shortest time to win an award at the BBMAs.
NewJeans' Hanni, expressed gratitude, saying, "Being nominated alongside artists we admire in this category itself is an honor. We are truly thankful for the opportunity to stand on the Billboard Music Awards stage."