According to the Korea Brand Reputation Research Institute, the top 3 individual female K-Pop idols in terms of brand value ranking for this month are NewJeans' Minji, NewJeans' Hanni, and BLACKPINK's Jennie.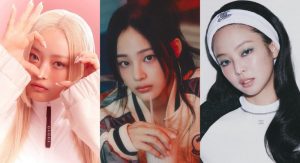 From October 19 through November 19, the Institute analyzed big data of 655 female K-Pop idols in areas including consumer participation, media activity, communication, and community activity.
The analysis results showed that Minji was the #1 ranking female K-Pop idol for the month of November, earning a score of 3,662,286 points in total. Fellow NewJeans member Hanni came in second place with a score of 2,507,384 points, and BLACKPINK member Jennie came in third place with 2,433,938 points.
The big data analysis showed terms that were most commonly linked with Minji were "elegant," "fresh," and "composed." On the other hand, the keyword analysis of the member see "League of Legends World Championship," "Billboard," and "Bunnies" as the most commonly searched term.
Here are the top 30 rankings for this month:
1. NewJeans' Minji
2. NewJeans' Hanni
3. BLACKPINK's Jennie
4. aespa's Karina
5. BLACKPINK's Jisoo
6. Girls' Generation's Taeyeon
7. NewJeans' Haerin
8. aespa's Winter
9. Red Velvet's Joy
10. NewJeans' Danielle
11. Grls' Generation's YoonA
12. Red Velvet's Wendy
13. Red Velvet's Irene
14. BLACKPINK's Lisa
15. LE SSERAFIM's Chaewon
16. BLACKPINK's Rosé
17. Oh My Girl's Mimi
18. IVE's Wonyoung
19. Red Velvet's Seulgi
20. (G)I-DLE's Miyeon
21. IVE's Rei
22. cignature's Jeewon
23. IVE's Gaeul
24. TWICE's Nayeon
25. LE SSERAFIM's Kazuha
26. IVE's Yujin
27. Cosmic Girls (WJSN)'s Yeoreum
28. NewJeans' Hyein
29. Girls' Generation's Seohyun
30. TWICE's Jihyo