During his third year studying engineering at Oxford University in 2014, then 21-year-old Ben May had a routine operation to repair knee ligaments damaged by a soccer mishap. The results were anything but routine. "A week after surgery, my leg started hurting badly and my temperature leapt to 40 degrees [Celsius or 104 degrees Fahrenheit]," he recounts.
May was rushed to the hospital and diagnosed with a severe leg infection. He woke up at the hospital extremely dehydrated. "When they stuck a cannula in my arm to give me some IV hydration, instead blood spurted out as thick as treacle," he says. "They were really worried that the infection might lead to sepsis, where there is a 50% chance of amputation." Thankfully, May staved off sepsis, but his body was attacked by the superbug Methicillin-resistant Staphylococcus aureus or MRSA.
In just two weeks, May lost over 40 pounds and, in the following two months, spent 44 nights in the hospital enduring nine operations and being loaded up with strong antibiotics. "They had really nasty side effects," says May, now 28 years old. He elaborates, "I had always had, fortunately, good skin, but I had lots of blemishes and pimples, and my skin looked green and gaunt, and it made me self-conscious and affected my self-confidence. This was the genesis for my idea for Skin Woof."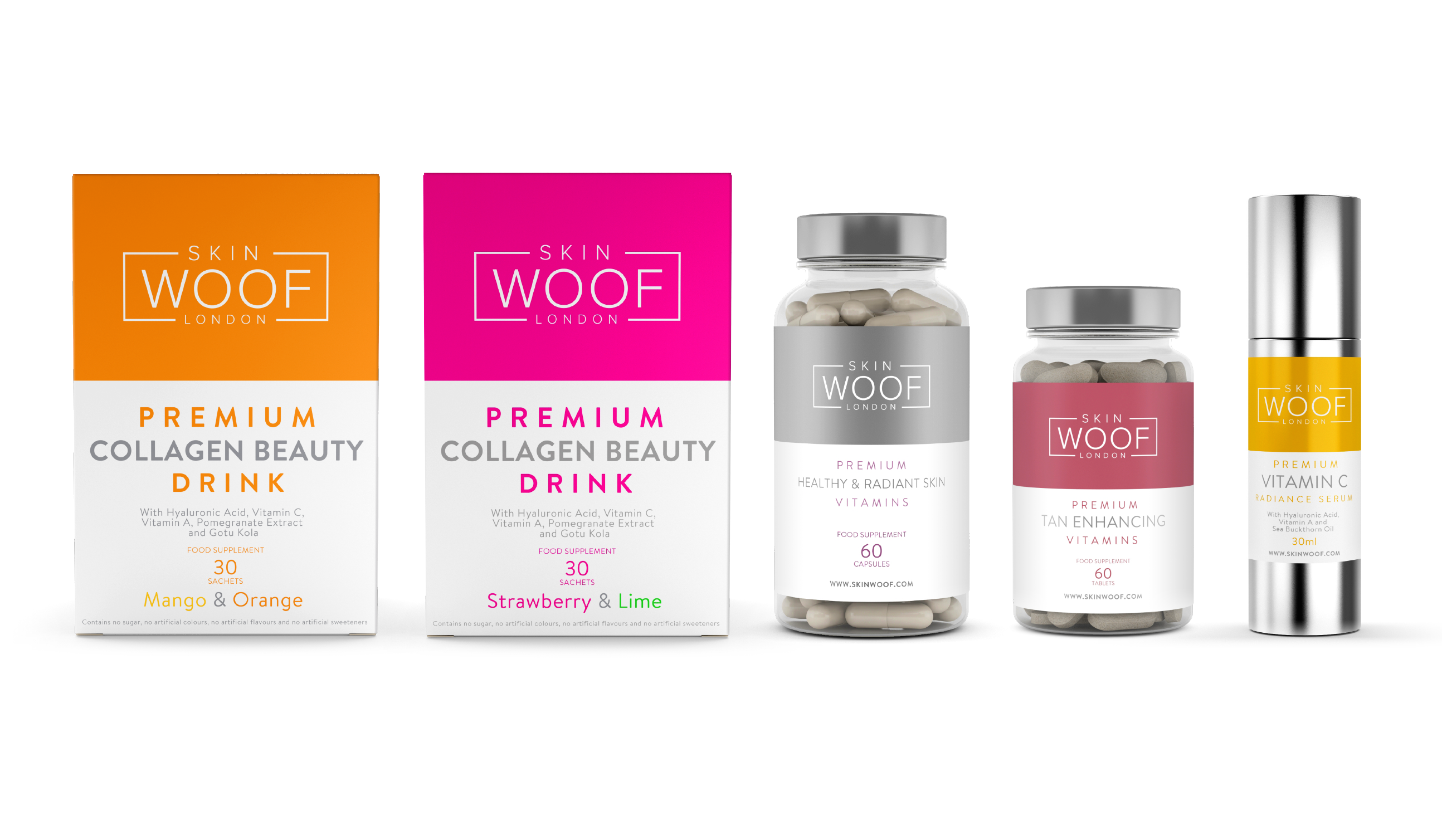 Skincare and supplement brand Skin Woof's assortment contains Original Healthy & Radiant Skin Vitamins, Tan Enhancing Vitamins, Vitamin C Radiance Serum and Collagen Beauty Drink in Mango & Orange and Strawberry & Lime varieties.
With the idea for a brand selling skincare and supplements at the back of his mind, May's health improved. Although he had to sit out a year, he ultimately graduated from Oxford in 2016. He landed a job at Baylor Klein, a London-based boutique advisory firm recently acquired by Houlihan Lokey, as a mergers and acquisitions analyst focused on the beauty and personal care industry. "I was looking at trends, and skincare supplements were starting to emerge as an entirely new category," says May.
He wrote a business plan centered on creating a supplement to give skin a health glow and a firmer and smoother appearance, improve elasticity, and reduce blemishes and dark circles. He left Baylor Klein in late 2016 to concentrate on Skin Woof full-time and soon realized it was a tall order to develop the supplement he envisioned. He admits he had little clue about how long it would take to ready the product for launch.
May says, "If I had known that, I might not have gone for it as it's always good to have some stable financial support because I had to make sure the formulas were state-of-the-art and worked with the best nutritionists and dermatologists as well as and made in the U.K., which was really important to me."
Skin Woof was funded with a bit of May's savings and a loan of 15,000 pounds or about $20,530 at the current exchange rate from Start Up Loans, a government-backed program to foster small businesses. "Without them, Skin Woof probably wouldn't exist," says May.
"To have gone through something where you've really been exposed to your own mortality makes you appreciate life a lot more"
The brand launched with one product in August 2017: Skin Woof Original Healthy & Radiant Skin Vitamins boasting hyaluronic acid, coenzyme Q10 and grapeseed extract. May chose social media to put the product out into the market. "At the time, there weren't as many skincare supplements, and I couldn't find any being promoted on Instagram," says May. He initially sent the vitamins to influencers with large followings and paid a few, but it was micro-influencers with 2,000 to 20,000 followers that really sparked business.
Today, Skin Wolf has sold more than 15,000 units of a range that includes its first vitamin product, Tan Enhancing Vitamins, a subsequent product and the No. 1 tan-extending supplement on Amazon in the U.K., the topical Vitamin C Radiance Serum and Collagen Beauty Drink in Mango & Orange and Strawberry & Lime varieties. Collagen Beauty Drink was awarded gold in the 2020 Pure Beauty Awards. Customers rave about its delicious taste. A subscription model keeps them stocked without the hassle of reordering. A quarter of Skin Woof's customers are subscribers.
In November last year, Skin Woof participated in British health and beauty retailer Superdrug's pitch competition Open House Live via Zoom. "I gave a 10-minute presentation, told my story and the brand story, plus the award really helped, too," says May. Superdrug was impressed with May and Skin Woof, and the brand was greenlit for 100 locations. His aim is to expand Skin Woof chain-wide at Superdrug's 800 locations.
Guiding a nascent brand, May acknowledges fulfillment can be a challenge. He uses a manufacturer and distributors to handle production and product dispersal, and works with consultants for public relations and social media. "I think it's a new model of business working with freelancers" says May. "However, with Superdrug, our volumes have gone right up as well as our visibility, so I probably will be taking on some staff in the near future."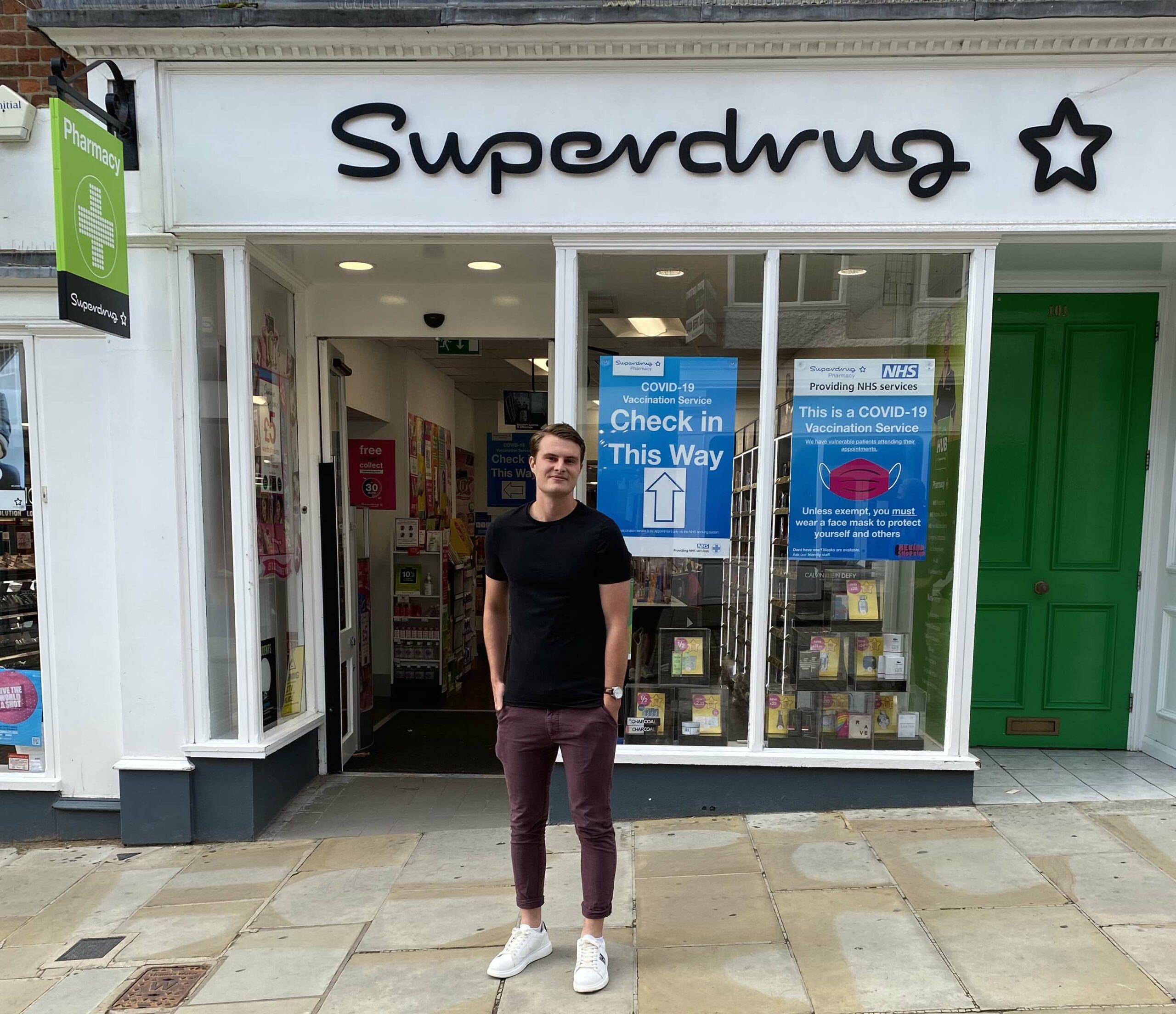 Ben May's brand Skin Woof has rolled out to 100 Superdrug stores after he participated in the health and beauty retailer's pitch competition Open House Live last year.
May has been through a great deal to arrive at this point, making Skin Woof's traction all the sweeter. "Obviously, I wouldn't want to go through what happened again," says May. "To have gone through something where you've really been exposed to your own mortality makes you appreciate life a lot more, and I'm a lot more grateful for a lot of things than I was before."
May is howling woof at his accomplishments and the success Skin Woof has had so far. Don't get it? Laughing, May explains, "A university friend used to say 'Woof!' when something was really good like people used to say 'Bam!"
Source link : https://www.beautyindependent.com/leg-infection-mrsa-antibiotics-hospital-stay-ravaged-skin-ben-may-skin-woof-superdrug