In a recent and alarming incident at the airport, Red Velvet's leader Irene was allegedly injured during a chaotic mobbing by fans and reporters. The beloved star and her group were en route to the Supersound Festival in Thailand, fresh off their performance at Music Core, when they were met with an overwhelming crowd.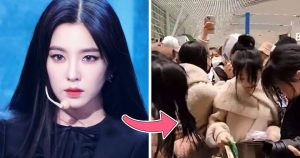 The dedication of Red Velvet's fanbase, known as ReVeluvs, is well-documented. Still, the scenes that unfolded at the airport were of a nature that no artist or fan would ever want to witness. Hundreds of fans had gathered, leading to a situation that quickly spiraled out of control. Video footage circulating on social media shows the severity of the mobbing, with members, particularly Irene, struggling to navigate through the sea of people.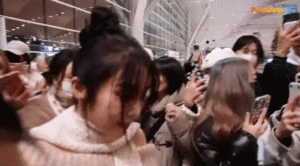 The mob was so bad Wendy herself was seen asking fans to give space — a request made in both Korean and English in an attempt to reach international fans present. Despite her polite entreaties, the situation remained fraught. With fans pushing into each other and giving the quintet little space to move forward.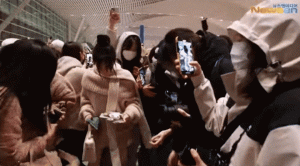 A particularly distressing video posted on Twitter showed Irene being roughly shoved unexpectedly from behind, a move that has sparked outrage among fans online. Admirably, she managed to maintain her composure and smile — a testament to her professionalism and kind-hearted nature toward fans.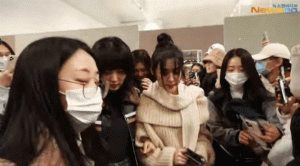 However, her stoicism may have belied a more serious issue. Subsequent footage depicted a noticeable change in Irene's demeanor, as she appeared distressed, walking slowly and leaning on fellow member Seulgi for support. Several fan accounts suggest she may have injured her foot during the incident, raising concerns about her well-being.
Irene's unwavering commitment to engaging with fans, even in the midst of being mobbed — taking letters and gifts — has only increased the fans' respect for her. Nonetheless, this incident has left many feeling a mix of emotions: admiration for Irene's strength and resentment towards those who contributed to the chaos.
The event has also led to criticism of SM Entertainment, Red Velvet's management company, for failing to provide adequate security measures. Fans argue that better planning and protection are necessary, especially in light of the group's rising popularity and the increasing intensity of public appearances. The lack of security staff was apparent in all videos posted from today's incident.
In fact, it was reporters who had to help hold fans back and securely accompany the quintet past their gates.
As fans await updates on Irene's condition, hoping she isn't hurt too badly, they have taken online to condemn the fans who contributed to the incident and SM Entertainment for not offering appropriate protective measures for their girl group. While the incident has yet again shone a light on Irene's admirable character, it has also exposed the darker side of fandom culture and the lapses in security protocols.