Admitting she can be cheesy, Angelica Sele makes it a point in meetings to tell her employees at Angelica B Beauty, a spa and store in San Diego, that what they do is special. "We help our clients. I really believe that," she says. "You want to have a job that makes a difference in the world and actually means something, and I think beauty jobs mean something." Today, Angelica B Beauty is making a difference in a way Sele couldn't have imagined when she opened her business at the back of a salon in 2012. It's pushed into sexual wellness with brands like Dame, Foria, Fur and Lady Suite, and started conversations with customers about their sexual health. The move has prompted Sele to put women's issues at the heart of her role leading Angelica B Beauty and its mission. "Where we are as a nation of women is not in a good place, and I think we have to know more about our bodies and our choices, and the power of being a woman," she says. "I want to do more for that." Beauty Independent chatted with Sele about creating Angelica B Beauty, whether it's received a backlash from its expansion into sexual wellness, strategies for selling sex toys, and how she brought the business back from near collapse.
Did you want to go into the beauty industry when you were young?
Oh god, I changed things I wanted to be so much. I didn't know what I really wanted to do and a lot of things seemed interesting to me. I wanted to be an actress. I wanted to be a lobbyist for a while. I liked public speaking, so that was the common theme in all of the careers that I wanted to do. I'm an only child. My parents are not ultra-conservative, but they are just a traditional Mexican immigrant family. They think you get a full-time job with benefits pension and a 401K, and you pay your bills and buy a house. That's what they ingrained in me, but, as a child, I knew I wanted something different. I was very curious. I was kind of lost in a way, but I was happy. I just had no idea what I had to do.
How did you get into the beauty industry?
I had a really good job in my early 20s that paid very well, but was very unfulfilling. So, I quit and went to go live in Europe. I lived in France for a while, and I didn't really know anyone. I just remember going into Sephora. That was my sacred place to go. I always loved makeup, and I understood Sephora because we had it in States. I went to the Paris one, and it was huge. I spent hours looking at makeup and skincare.
When I got back to the States, I started working at Sephora. I worked at Sephora probably six years. I started in gift wrap, and I worked my way up to assistant manager. I learned a lot. I didn't go to college, so I felt like my Sephora years really taught me a lot about business. I loved it, but didn't like the schedule. I knew I wanted to have kids, and I didn't really want that schedule to be my schedule anymore.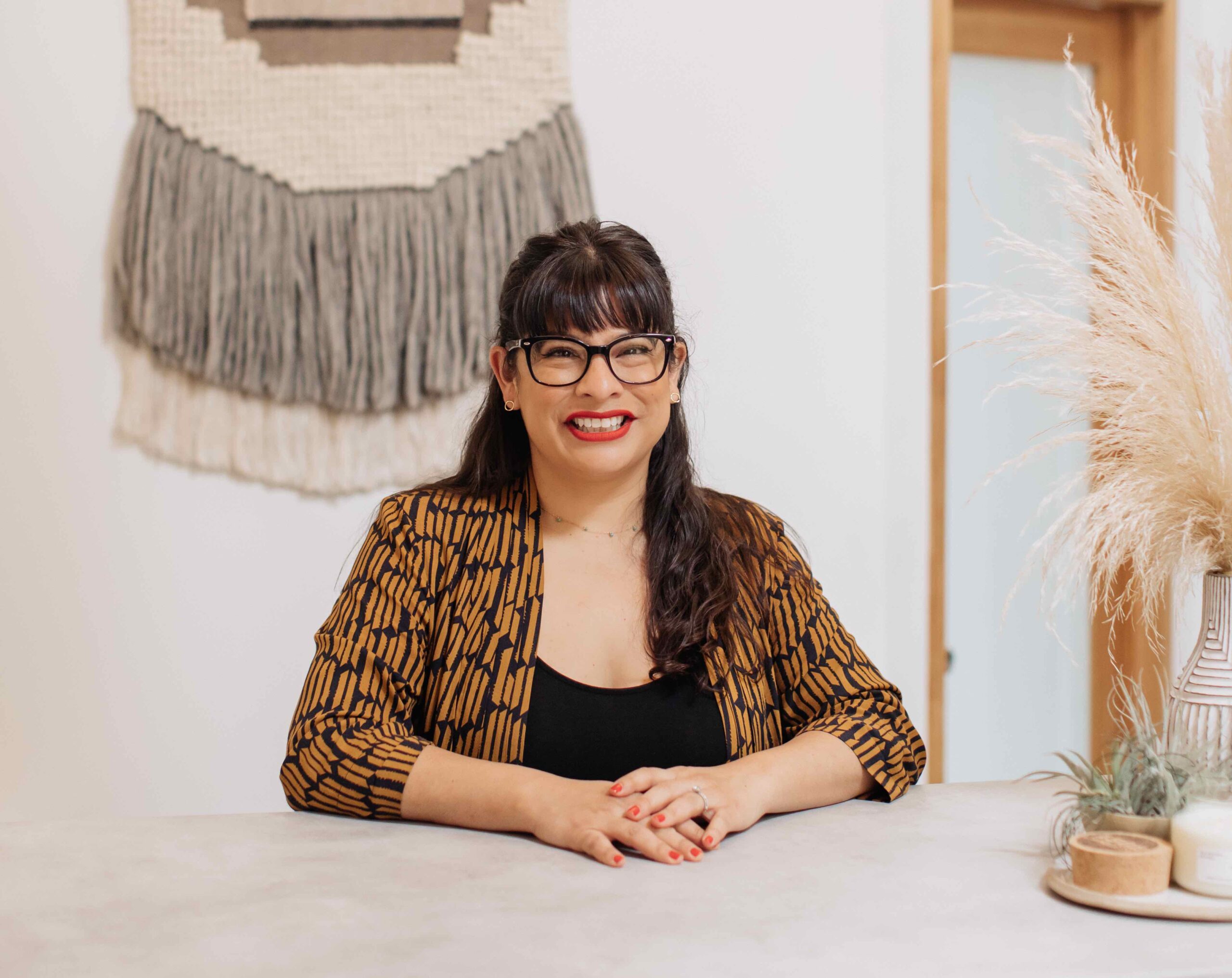 Angelica B Beauty founder Angelica Sele STACY KECK
How did you end up opening your own business?
I remember having a nervous breakdown. I was in my 30s and single. I lived alone in my tiny one-bedroom apartment with my dog. I had no idea what I was going to do. I was really disappointed in myself. I never envisioned that when I was a kid. I was just trying to figure out what I wanted to do with the rest of my life. For some reason, I envisioned a boutique and makeup studio that was everything Sephora wasn't. It was intimate and about having personal relationships.
I needed my parents' financial support because I didn't know how the heck I was going to do this. I told them I wanted to build a business, and I was going to New York to take a makeup class. Then, when I got back, I wanted to do it. My parents were super supportive. I was surprised. I thought they would laugh at me. I came back from New York and started building my business. I needed business insurance and a license attached to it. Makeup doesn't have a license, so I went to aesthetician school to get my license. I feel in love with touching the client and being hands on.
When I finished aesthetician school, I started a business the back of a salon. I had no clients or money. My mom let me borrow money for a massage bed and wax warmer, and that is how Angelica B Beauty started in 2012. I had a lot of drive, and I had a really big ego. I didn't want to go back to Sephora, and I think that is what drove me the most to succeed. There were a lot of dark moments. I did everything. I put flyers on car windshields. I gave free services. I would introduce myself to every business and offer them a facial.
I think I treasure my business so much more because I did work really hard to build it. It's going to be 10 years in February, and it's been a crazy journey. Now we have five rooms, and I have employees, and we do basically every service under the sun in beauty. We have a green beauty boutique, and we have sexual wellness. It's incredible.
What happened next?
My biggest thing is I wanted to style my room and boutique the way I wanted to do it. So, I left and rented a room in a business center. It was very small, but it gave me creative independence to be able to style it the way I had always dreamed of styling it. We were there for six years. In those six years, I got married and had two kids. I was never scared of anything prior to the kids. I was always a risk taker, even in my personal life, but, after I had my two kids, I got a little bit more cautious and maybe even too cautious because we hit a wall of growth. We hit the wall around four years in, and I stayed there another two because I was nervous.
Then, COVID hit. That blew my whole world upside down. I was so close to the worst-case scenario like losing our whole business. We went through all of our savings. I had nothing left but products. Being that close to not surviving business-wise gives you a sense of freedom. At that point, I was like, "Well, fuck it, let's do it and, if I fail, who cares?" I gained a lot of courage that I had lost. You know how life works, when something is meant to happen, life guides you there. So, we also got evicted from our location because it was being sold. I had wanted to leave that building for so long.
We found this location in South Park, and it was perfect and beautiful, but really small. We moved in July of 2020. It was the worst time. We moved and had no money. We just hoped for the best. I was excited, though, because I knew this location was going to be something special. Once we settled in, the location next to the location we moved into became available for lease. I envisioned in that moment what our space was going to be like.
We didn't have that much money, but I just knew, if we just take over that location, I will have the rooms that I want, and I will have space for a boutique. I talked to my husband and my parents, and they were totally against it, but I knew in my heart this was it. I said I appreciate your input, but I'm still going to do it. I think COVID taught me to be confident in the knowledge of business that I had.
We doubled our rent in the middle of COVID. So, I got a loan and made our boutique. Now, we have five rooms, a lobby and a boutique. It's amazing. We have more than doubled our profits since our best year in 2013. Our whole business has completely transformed. It's crazy how much bigger in every sense of the word that we are now. Taking chances works.
How have you built the boutique?
I definitely am aware of beauty trends, so I always seek them out. I think they control what clients look for, and I always want to be ahead of the game. We were creating our boutique in 2015, and I was looking at green beauty. There was Ilia, Kosas, Ecobrow and RMS. Coming from the makeup artistry side, they were OK. They aren't at the same level they are now yet, but they had the angle of being clean. I knew that would go far, and I thought, "Give it some time. These brands will definitely develop," and I believed in the message.
Ilia and Kosas were two of our first brands. I'm a very visual person, and packaging had a lot to do with my selection. I wanted brands that looked pretty. Now seeing where Kosas and Ilia are, I'm super proud that we had them in our assortment early on. Having those brands that really blew up helped us a lot. Right now, the trend is sexual wellness, and I'm exploring it and seeing where it goes.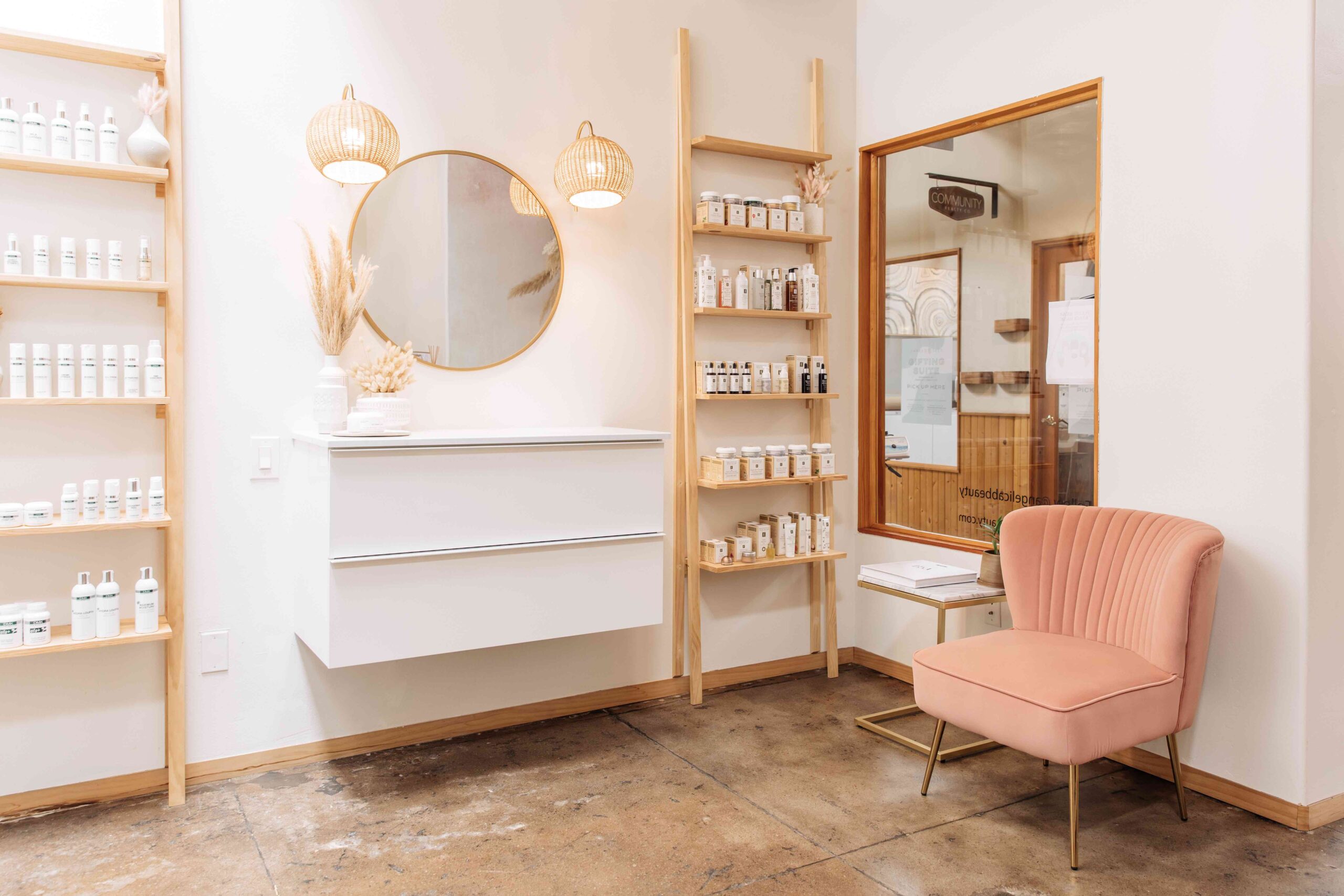 In the midst of the pandemic Angelica B Beauty relocated to its current at 2226 Fern St in San Diego's South Park area. It contains five treatment rooms and a boutique with products from the likes of Kosas, Ilia, Dame, Marie Veronique, Lady Suite, Fur, Ecobrow and Wiley Baby. STACY KECK
Why did you want to expand into sexual wellness?
During COVID, I was reading and hearing a lot about sexual wellness. I've always been very into women's rights and equality. I thought, "Finally, how many freakin' years did it take to talk about women's sexual health?" I was all about it personally, but I was a bit nervous about my clients. We started the boutique with green beauty, but it's really transitioned to more of a women's self-care boutique, and I knew it just fit. It was exactly what I wanted to be behind.
First, we got Foria. I was really testing the waters with my clients to see what the response would be. We thought about, how should we present it in marketing? Were we going to be loud about it or be more cautious? A few months into having Foria, I was like, "Oh man, maybe the clients aren't ready." Then, all of a sudden, it exploded. I feel like waiting for people to feel comfortable is so important. It may take a minute. I learned that with Foria and Dame. Dame is our No. 1 seller online.
You mentioned debating whether you should be loud or cautious about marketing sexual wellness. What did you decide?
We have been really loud about our sexual wellness category. I do these talks called vibe talks. I go through different vibrators, and I talk about my own experience with toys. I just want my clients to feel comfortable. As a 44-year-old woman, there's been a lot of peaks and valleys in my own life and with my sexuality. It can feel lonely because you don't understand, why is it that my sexual drive is lower or I'm feeling different? Nobody talks about it. So, I like to talk about it. We want to do IG Lives with brands and open it up for questions.
One thing that I will say about the vibrators is that I don't think clients ask enough questions, so there is a return rate there. There needs to be more guidance and resources for clients to understand how to use a toy and that every body is different. So, what works for me may not necessarily work for you, but just keep trying, talking and exploring, and figuring out what is for you. That's the biggest challenge of being in sexual wellness.
How do you merchandise and sell sexual wellness products in the boutique?
We make it a point to have all the vibrators by the register so clients ask all the time about them. You have to normalize it. It's been important that my employees feel comfortable talking about sex, clitorises and vibrators, and understand the anatomy so they can explain it properly. If we are nervous or giggling about it, it's not going to make our clients feel comfortable. We are very open and professional about it. We talk about vibrators like we do about our newest vitamin C serum. We offer something for everyone, and we are more than happy to explain the products.
We also are a very beautiful, pretty space, and I don't think that you correlate vibrators to a beautiful boutique. You think vibrators are at a raunchy place, and that's an idea we are trying to break. You come in here, it's very pretty, it smells amazing, you feel comfortable and relaxed, and we can talk about vibrators. We are trying to change the environment for sexual conversations.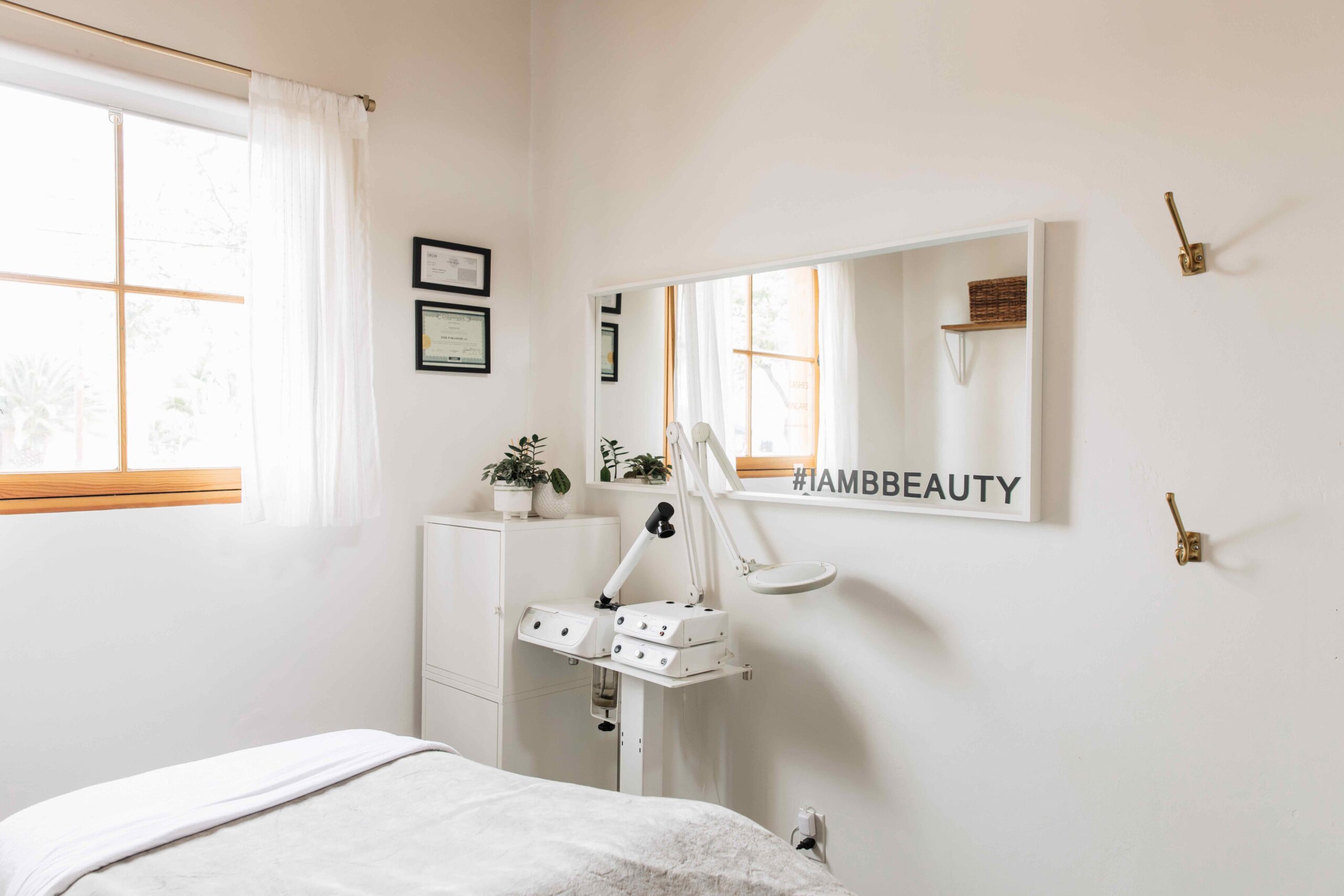 Angelica B Beauty offers a wide array of services, including massages, waxing, facials, tanning and makeup consultations. STACY KECK
Do you get political?
I try not to be very political for my business, but it's always a conversation when we are talking about our social media. I don't look at it politically. It's more about what I believe in. I don't know if that makes sense. It's not I'm a liberal and a Democrat. It's about making choices for your body as a woman. That's not very political to me. It's just what I truly believe, but it's always a fine line. Is this more sharing your party views or your political views or is this really just sharing what you truly believe in your heart? For some people, that could be political, but, for me, it's just what I wish for all of us as women.
Have you gotten blowback at all?
Right now, we are having an art competition where we invited our community to make artwork inspired by the Texas [anti-abortion] law. We are going to display it in our front window. It's a chance to make a statement without really saying anything. When we sent an email about it, I did a disclaimer on the email saying the intention of this is not political at all. We are a women's self-care boutique. If you went to a gym, they would encourage a healthy diet because it goes hand in hand with what they do. This goes hand in hand with what we do.
We have been fine there, but where we have gotten some blowback is having sexual wellness and encouraging masturbation. We did get a client that wasn't very happy, but I'm OK with it. I always feel like, if I do things that I really believe in that are very authentic and I get blowback,  I'm OK with it because I feel like I'm being honest. I don't try to please everybody. That's never been my intention.
Where do you want to take your business?
I am close to it being everything I want it to be. There may be little tweaks, and maybe one day I will have my own skincare line or have more classes here. I'm at the point where I'm exploring what's next. I am just listening to life right now. I have a very big passion for women, so I'm curious if that's going to take me in in a different direction, and I'm totally open to that.
I have two small kids, and I want to be in their lives more. I don't think you can have it all. Right now, I'm just trying to figure out how I'm going to balance it all, and if there's anything else I want to do. I think I will just fall into it. Honestly, I just fell into this. I don't come from a family of entrepreneurs. I don't know why I thought could run a business. It's harder than I ever imagined, but I just did it.
Feature image photo credit: Stacy Keck
Source link : https://www.beautyindependent.com/angelica-b-beauty-womens-self-care-space