SkinSpirit has arrived in New York City with the opening of its 20th location nationwide on Manhattan's Upper West Side.
The location marks the aesthetics treatment chain's debut in the East Coast after spreading units in California, Texas, Washington and Utah. The 1,900 square-foot, seven-room clinic melds a cutting-edge medical office feel with the ambiance of a luxury spa, providing no-nonsense New Yorkers with a respite from the urban hustle where they can feel relaxed.
SkinSpirit was founded in 2003 before the term "med spa" entered the beauty industry vernacular and about a year following the United States Food and Drug Administration's approval of Botox. Serial entrepreneur Lynn Heublein started it on the heels of selling technology company Hear Me and going through a divorce in 2001. Newly single and on a self-imposed sabbatical subsequent to18 months straight dedicated to growing her former startup, she began getting aesthetic treatments like laser hair removal and microdermabrasion, and was impressed with the results. 
Heublein credits plastic surgeon and SkinSpirit co-founder Dean Vistnes with having the vision that aesthetic treatments would be in big demand. "He saw that people were not wanting to do surgeries as much and that there was this pipeline of non-invasive procedures that was going to happen," she says. "He's kind of shy, but he got his wife Kara to pitch me. He knew I was an entrepreneur, and he doesn't have any business background. I was getting bored not working, but I wasn't really ready to jump back into another tech thing. I thought it'd be a fun project."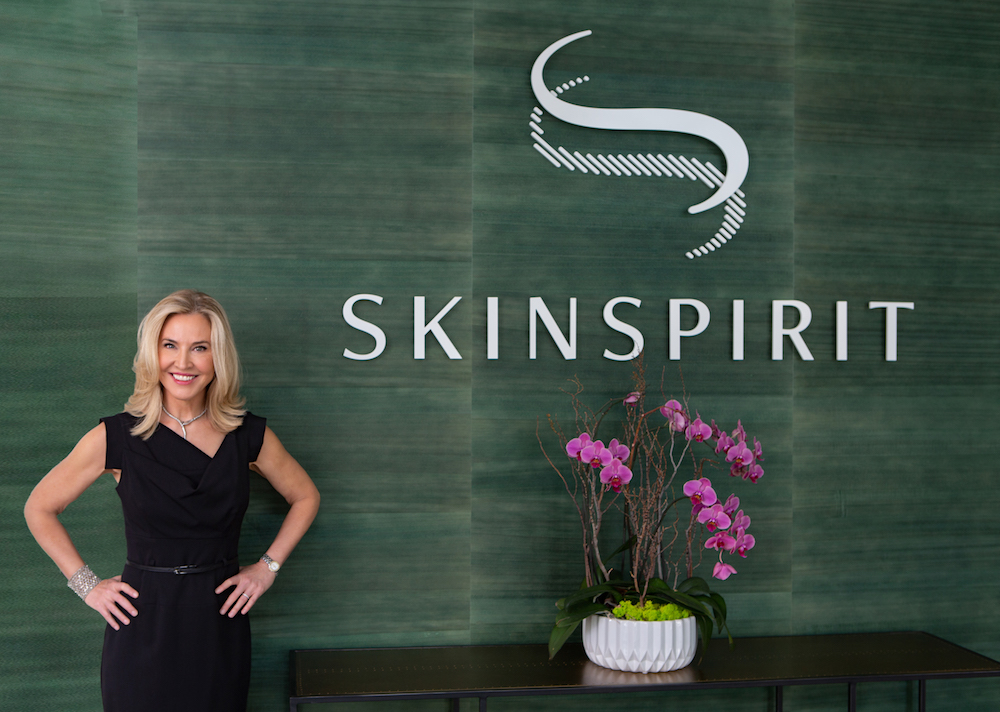 SkinSpirit co-founder and CEO Lynn Heublein (c) fernandoaguila.com 2017
Heublein and Vistnes funded the venture themselves, and SkinSpirit premiered with a location in Palo Alto, Calif. "We were one of the very first to really focus on facial rejuvenation and aesthetics, and we have remained a leader from the very beginning," says Heublein, mentioning Nordstrom was a source of inspiration for SkinSpirit's approach to customer service. "We infuse that Nordstrom customer service with this highly competent medical expertise," she says. "We also integrated skincare into the business, which was the most important thing." 
SkinSpirit's locations feature a small retail section in the reception area where clients can peruse and purchase products from premium professional skincare brands like Alastin, Colorescience, Glowbiotics, Is Clinical, Jan Marini, Obagi, Revision, Sente, SkinCeuticals, SkinMedica and ZO Skin Health as well as an eponymous line. Most products are available on SkinSpirit's website, too. 
SkinSpirit specializes in treatments that can be done alone or in combination such as medical-grade facials, chemical peels, microdermabrasion, collagen induction therapies, lasers and more. "Botox and filler are the icing on the cake instead of the cake," says Heublein. "I think a lot of concepts out there are so focused on the injectables, and I think that's one of the things that has set us apart, and one of the reasons why we have extremely high retention of our clients and a reputation for delivering really natural-looking results. You can't get that if all you're doing is injectables, you need a holistic approach."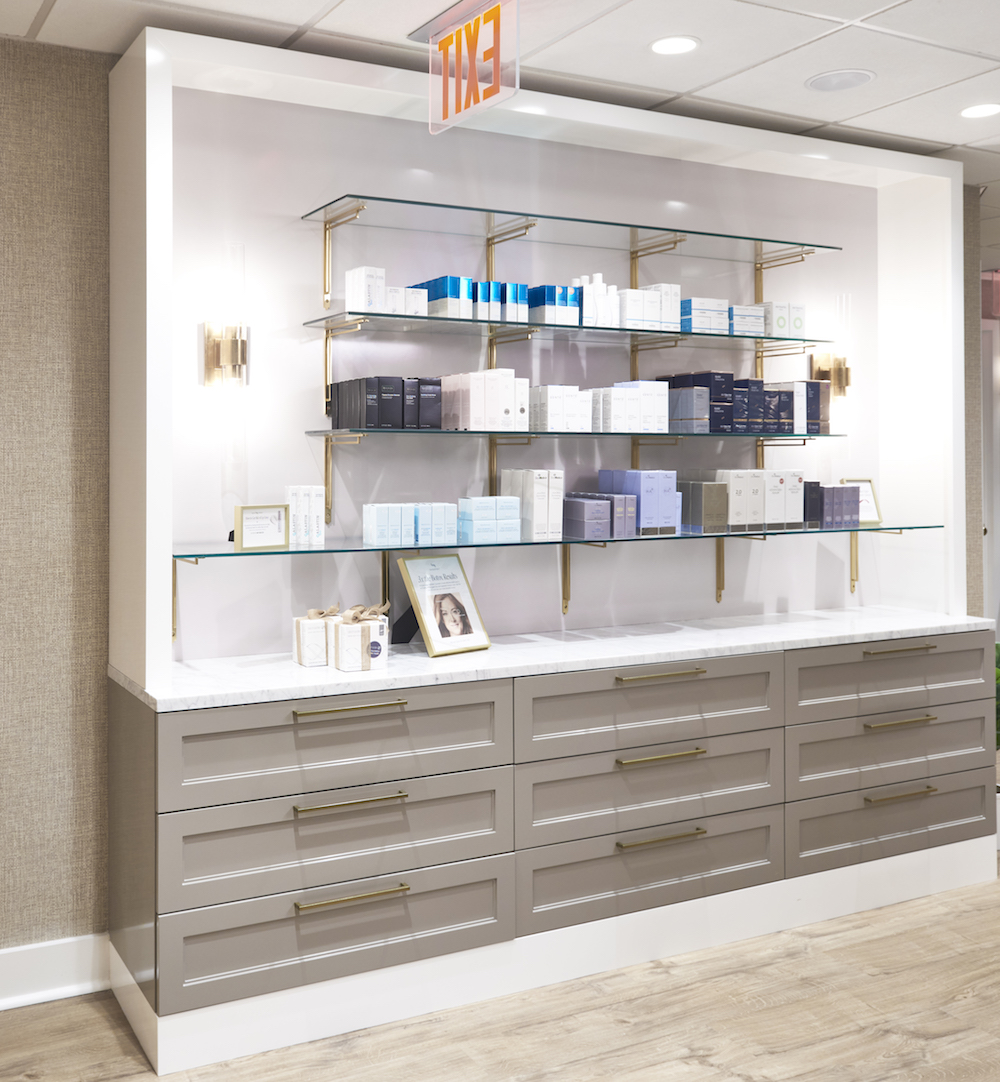 At SkinSpirit's new New York City location, clients can shop professional skincare brands like Alastin, Colorescience, Glowbiotics, Is Clinical, Jan Marini, Revision and SkinCeuticals.
Heublein shares SkinSpirit's client retention rate is around 70% in the first year of a new location. Beyond the first year, the retention rate increases to over 90%, which she says is higher than typical for med-spa businesses. More than 50% of clients come from customer referrals.
Another impressive data point for SkinSpirit is strong staff retention. During the pandemic, company didn't furlough or lay off staff even though its clinics were closed for three months. Employees received full salaries and 20 hours a week of training to keep their skills sharp. Heublein says, "Our staff and the culture of the company is a big priority to me and to everybody on our leadership team because those people are delivering the heart of the experience." 
SkinSpirit has doctors on staff, but its treatment providers are largely nurse practitioners. Many are national trainers for Allergan and Galderma, the companies producing the injectables Juvederm, Restylane and Botox. "We have a national trainer in every location," says Heublein. "That really ensures the quality of the service that you're getting."
Heublin believes California, among the country's most competitive medical aesthetics markets, if not the most competitive, has been ahead of states on the East Coast when it comes to adoption of the types of services SkinSpirit offers, and she's ready to shake things up. "The East Coast has been a little bit more conservative, maybe a little more skeptical," she posits. "The New York market specifically has really been dominated, for this category, by plastic surgeons and derms. They don't have a singular focus on non-invasive aesthetics like we do. Doctors don't have the same focus on customer service that we do. I'm really excited to see how New Yorkers respond to this kind of concept. I think it will be great."
Source link : https://www.beautyindependent.com/skinspirit-country-leading-provider-botox-fillers-opens-first-nyc-location